The Burton Street Foundation embraces diversity and equal opportunities. We are committed to building a staff team that represents our community; that will bring a wide range of experience, perspectives and skills to the workplace. We feel that the more inclusive we are, the better our work will be.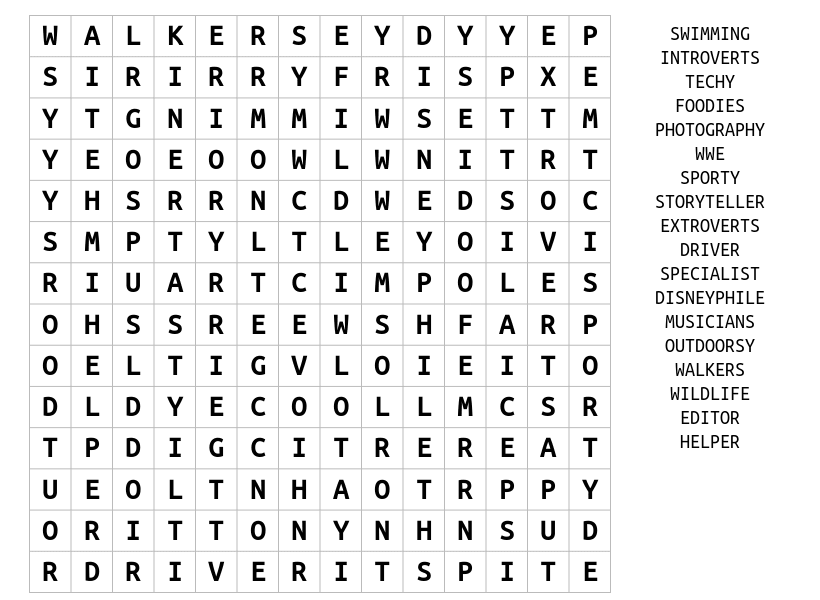 Staff Qualities and Interests Word Search
See if you can find all the things we would look for in potential new staff,
if you're good at something in the word search you could be a great fit for us!

*Interests that we couldn't fit in but are desirable
Warhammer • Intensive Interaction • Advocacy Skills • Complex Needs • Work with Non-Verbal Clients
We think the best employers get the best staff.
We work hard to ensure everyone at Burton Street is motivated and able to provide the highest quality services. Every member of our team receives regular, high quality training, and we have a culture of constant progression and professional development.
All Burton Street staff receive the following benefits:
Competitive wages

Flexible working

Extensive training courses in specialist areas

Discounted rates for our on-site facilities

Team building activities and staff socials

Incremental increases in holiday entitlement

Lots of nice, friendly people to work with

A lovely, creative working environment
The Burton Street Foundation is a not-for-profit organisation, supporting the community.

If there is nothing listed here, or if there is nothing suitable for you at the moment, we are always happy to receive CVs and covering letters to keep on file. If you'd like to do this please email them to HR Manager, Katherine Torr.
Why not get ahead of the rest? 
Read our supporting information and view the application
form to see if we would be the right fit for you!