Are you interested in making a difference and having your voice heard? Disability Sheffield's Healthy Living and Physical Activity (HL&PA) Project is looking for individuals with learning disabilities to become mystery shoppers. By participating in this exciting opportunity, you can contribute your valuable lived experiences to help improve community services for people like yourself. Here's everything you need to know about being a mystery shopper with Disability Sheffield.
What is the HL&PA Project? HL&PA's goal is to support community groups that offer healthy living and physical activity services. They want these services to be more accessible and inclusive for autistic adults, individuals with severe mental illness, and those with learning disabilities. Their aim is to equip community services with the knowledge, skills, attitudes, and resources they need to make their activities fully welcoming to everyone.
How does Mystery Shopping work? As a mystery shopper, you get to choose an activity that you would like to try out. It could be anything from a sports event to a fitness class or a community workshop. The best part is that all our mystery shoppers have their own lived experiences of severe mental illness, learning disability, or being autistic, so you're joining a team that understands your perspective.
Once you've experienced the activity, you'll provide feedback to Disability Sheffield's HL&PA coordinators on how well it suited your needs. They can then share this feedback with the service provider so they can learn from your insights and make improvements. You have the option to give the feedback yourself with the support of their project coordinators, or if you prefer, they can deliver it on your behalf. Positive feedback can be a great boost for the staff and volunteers, while constructive suggestions help services become more accessible.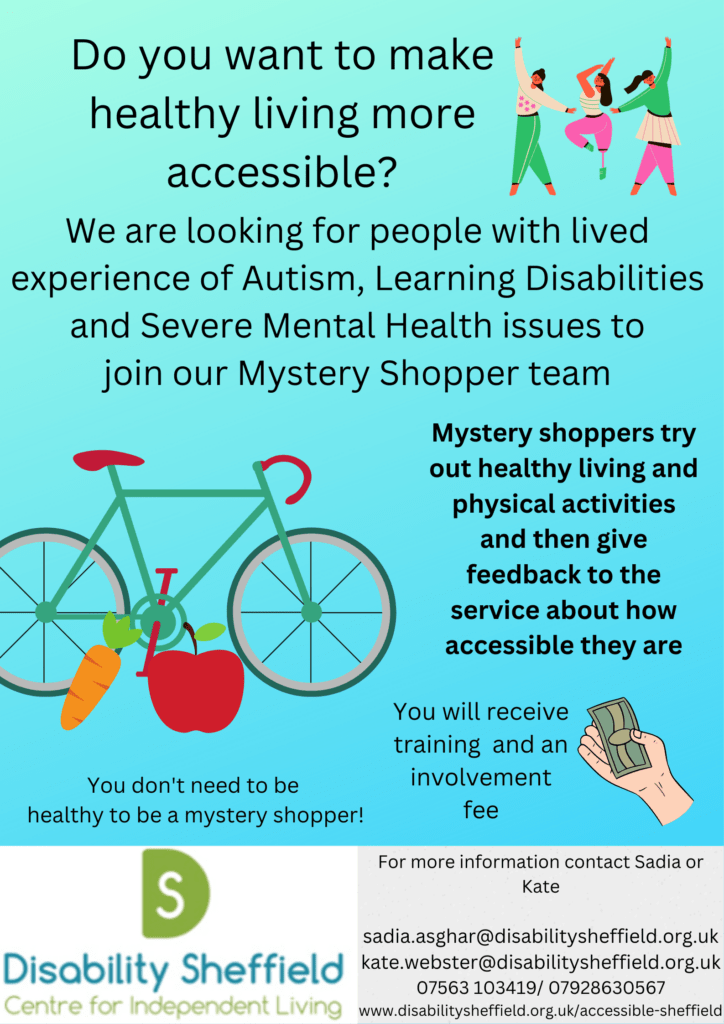 What happens when you become a Mystery Shopper?
The process is simple and flexible. Here's a step-by-step breakdown:
Disability Sheffield provide you with information about which services are seeking mystery shoppers and details about the activities.
You choose an activity that interests you and let them know when you plan to attend.
They inform the service provider that a mystery shopper will be visiting and give them an estimated time frame.
You attend the activity at your convenience.
Disability Sheffield will equip you with a prompt sheet to remind you of the aspects to observe and a comment form to complete if you wish.
Afterward, you meet with either Kate or Sadia to discuss your experience and whether you would like to meet with the service manager to provide direct feedback.
If you prefer not to meet them, Kate & Sadia will relay your feedback and inform you of the service's response.
You can participate in as many or as few mystery shopping opportunities as you wish.
You will receive an involvement fee of £10 per hour, which you can claim using an online form.
You can also claim travel expenses and the cost of the activity itself.
Your input matters, and we appreciate your valuable time and contributions. By sharing your thoughts and experiences, you can help shape community services and make them more inclusive for individuals with learning disabilities.
PLEASE NOTE: The involvement fee paid can have an impact of benefits depending on your individual circumstances, be sure to check with the DWP first!